My diploma came in the mail today, and I've got to say that I totally agree with Hawk (the supposedly willing slave of
Applegeeks
, for those not in the know) on this one: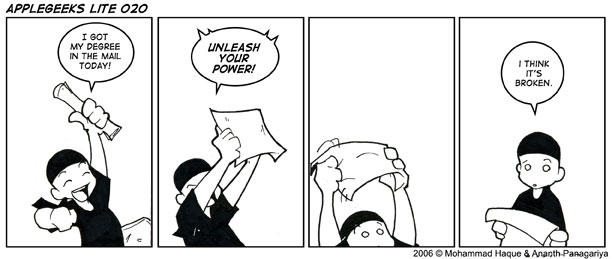 Yep. It should totally have mighty and awesome power attached to its little paper fibers or whatever. The power of flight might be cool. As it is, it's just a really expensive piece of paper.
In other news, my youngest brother departs for band camp (no jokes, please) tomorrow, and after they've seen him off and the like, my parents are going to North Carolina for the week, leaving me, the cats, and my medium-brother to fend for ourselves. They apparently don't trust us -- we've both been told on no less than three occasions not to have any wild parties. *snerk* Like David would have time for that; he has summer classes and a job. I, on the other hand...
Yeah, I've got nothing. Slaaaacker! (Ah, well. At least I'll maybe get some writing done? It'll be a very quiet week -- perfect for that sort of thing.) And I won't be a
complete
slacker (probably). I've got to go to the bank and stuff. And I ordered some manga, so I'll have to read that... Um. Right. And those little tasks will definitely leave no time for wild parties. Clearly. XD